Blogs
To Write Your Blogs Click Here:
Trip to Apli Shala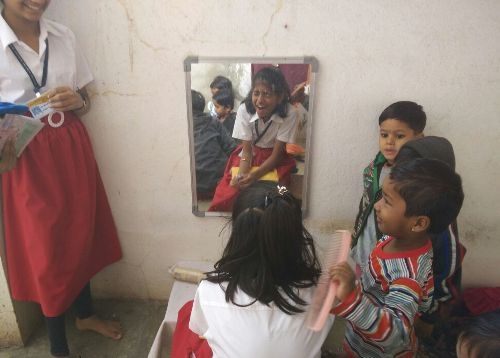 I don't remember how the topic came up in the 6th classroom but I suddenly came to know that the class wanted to visit Pragat Shikshan Sanstha's another school in the town- Apli Shala. Apli Shala is the oldest component of Pragat Shikshan Sanstha, situated in Mangalwar Peth, one of the most socially underprivileged sections of Phaltan. Currently there are three classes of balwadi in Apli Shala.
I was really happy to see children's enthusiasm. But I put a condition in front of them. They would plan the entire trip. We made a list of things to plan. They were free to make groups and choose what they wanted to plan, like deciding a date and time of visit, taking permission from the balwadi teachers as well as the principal, making a map, planning activities for the children etc. Some children took the responsibility of giving information of their houses or shops that fell in the way. Some of the children decided to read aloud to the balwadi children the English story books they had recently made.
The preparations went on for 3-4 days and then we were all set to go to Apli Shala. We all walked from the school. The school dog Bingo also came with us. I had asked children to talk in English and they were trying sincerely. A group had taken up the work of introducing some new words to the class such as potholes, climbers on the compound walls or barbed wires, garbage bins, tar roads etc.
I guess I should stop now and let you read the experiences of the students in their own words.

I went to Madhla gat classroom. It was very big. Some children shared news and nice experiences. Tai said, "You will write your experiences on paper." Children wrote but we could not read their writing. Tai said that was self invented script. So I told children to read their experience and wrote it on paper.

Mahesh

The classroom setup was very beautiful. Some children wore sari in the doll's house and gave us tea and breakfast. We read a story to the children using puppets. When I was playing with children I also felt like a child. I remembered my balwadi days.

Aarya

I was so happy that the class came to my shop. I practiced what to tell them. I wrote it on a paper. I wrote, "You know friends, this is LED TV and this is LED panel. It is very costly and delicate. This is back cover. The LED parts are very small and delicate. This lens glass is very useful. This is solder machine. It's very hot. Its work is to join LED parts.

Matin

I did not visit Apli Shala with friends because my grandfather was ill.

Chaitanya

On 10 January all 6th class students went to Apli Shala at 9 am. I was late. When I came to school nobody was there. I started to cry. Shrutididi gave me Madhuratai's number. I called her. She said to me, "Come to Apli Shala." I said, "I don't know the road." She said, "Tell Shruti to draw a map for you."

I took the map and started walking from the school. I asked one man. He showed me the wrong direction. A woman showed me the right direction but I missed that road. Finally I got the correct road and I reached Apli Shala. I went running inside and hugged Gouri. She took me to Madhuratai. I was crying. Madhurarati said, "Why are you crying? You reached on your own. You should be proud of yourself!"

Snehal

We decided that we will go to Apli Shala. I said to tai, "Tai, we will go to my father's seed shop near Apli Shala. Tai said ok. I was so excited! When we started walking tai said, "You should talk to each other in English." When we were talking in English if someone talked in Marathi, we all shouted, "English! English!" and laughed. When we went to my father's shop I showed many seeds to my friends and told the names in English.

Sanskruti

My birthday is 10 January. On that day we went to Apli Shala. First we saw circle time. Then after 5 minutes some boys said a small child is calling me. I went and saw that a boy had made a small clay cake for me. I was very happy. The child said, "Blow the candles." So I blew the clay candles. All the children clapped and sang happy birthday song for me. It was truly a happy day.

Arya

I will write about our school dog Bingo's adventure. When we went to Apli Shala Bingo also came with us. We enjoyed the trip but Bingo was scared because the dogs on the road barked at him. One dog bit Bingo's tail. It was a gang of dogs and Bingo was alone so we protected him. We made a circle around him. Inside the circle Bingo was safe. We felt like his bodyguards.

Tanvi J

We went to my shop- Gandhi Electricals. The shop is big but when everybody entered it looked very small. Then I told some information about the shop. Tai asked me, "What things do you like in the shop?" I said, "Home appliances."

Sanchita

We played some outdoor games with the children. First we played wagh-sheli. The small children became wagh (tiger) and we became sheli (goat). I thought that small children cannot catch us. But small children ran very fast and caught us. Then we played langdi. I and my classmates were running inside the circle and a girl from balwadi was hopping. She was hopping very fast. She caught me. The small children were champions!

Shreya

We went to the Apli Shala school

The weather in the morning was very cool

We went walking

Only English talking

Bingo also came with us

With street dogs he caused ruckus

At Bhargav's house we met his sister

And saw pots made by a potter

The children in balwadi were cute and sweet

All of us were so happy to meet

We did a puppet show for them

And we played a lot of games

We drew pictures

Only play, no lectures!

At 12 o' clock we had lunch

We liked this trip very very much


Madhura Rajvanshi
Previous Reply